What a week! I haven't been this busy in a long time. A whole lotta stuff Happened at once. While I try to unburden my life from unnecessary stress, sometimes one can't avoid a whole lotta crap happening simultaneously.
So here is a list of randomosity to remind me (and you) that there's some really cool stuff out in the world.
This Knight battling this Snail.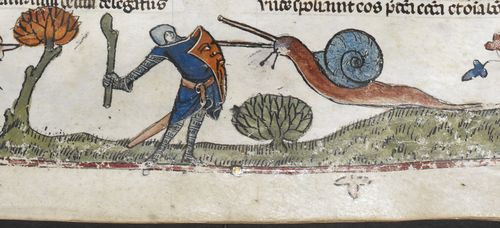 I don't know what it is, but knights battling snails was a
common theme
in Mediaeval marginalia. That the snail is a metaphor I am sure. A metaphor for what? Nobody really knows.
No such thing as too many cats on the Internet:
The Internet was made for posting pictures of cats.
Mr Money Mustache: Financial Freedom Through Badassity. Click thru for some brilliant financial advice. I wish I'd found this sooner.

Don't be UnAustralian. Eat Lamb.
Or rather, as Easter is approaching, indulge in something Goo:
Um.... not quite sure what to make of this. Funny? Disturbing? Comment in the comments.
_________________________
Her Grace has realised that she needs to learn the fine art of No... six months before the consequences are felt. She also needs a raise.